SUPERSTRATA:
3D PRINTED ART
OPEN CALL FOR 3D PRINTED ART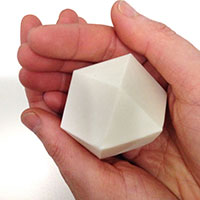 There is a $25 submission fee for up to 5 works
Submission Deadline: June 1st, 2015 midnight
Notification of acceptance: by June 15th, 2015
Show dates: July 18th-August 30th, 2015
If accepted, drop off/deliver work by: July 8th, 2015
If work is accepted: Artist must pay to ship work to the gallery. If work is unsold at end of show, we will pay to ship the work back to the artist.
You can apply below and pay the $25 fee using the button below OR send us a check endorsed to "The Compound Gallery" 1167 65th st. Oakland, CA 94608
In the application below, you will be able to list up to 5 individual works for submission and either 1. email your 5 images to info@thecompoundgallery.com OR 2. submit a link to the works online.
The Compound Gallery is pleased to announce the forthcoming exhibition "SUPERSTRATA: 3D Printed Art" SUPERSTRATA focuses on innovative approaches to creating visual art using additive manufacturing. Artists across the country will use of 3D modeling as a form of artistic expression and 3D printers as an artistic medium. The show will run from July 18th-August 23rd with the opening reception held on Saturday, July 18th 6-9pm.
Much focus has been placed on industrial applications such as rapid prototyping and manufacturing, but artistic approaches are expeditiously increasing. 3D printing, also known as additive manufacturing, is a method in which successive layers of material are placed by an industrial robot (3d printer) to create a three dimensional object. Various materials such as resin, steel, wax, food, and precious metals can be used in select printers, but plastics are currently the most dominant material used.
3D printed art requires design concept, 3D modeling, and printing–elements that are not always done by the artist who created the design. Historically, many artists did not autonomously create their own work. Classical artists such as Leonardo da Vinci, Rubens had skilled apprentices and assistants, and many contemporary artists like Warhol, Shepard Fairey, Takashi Murakami, Jeff Koons, and countless others rely heavily on staff to produce work, many of which have been criticized for having assistants.
3D print computer files work much like as an artist's etching plate. It is a means of manifesting an artist's concept into reality. SUPERSTRATA will explore the notion of artistic copyright, use of hired printers, and design rights in relation to 3D printing and the Visual Arts. Artist and author of The Book on 3D Printing" Isaac Budmen will be discussing these topics and more during his talk on Sunday, July 19th at 4pm. The Compound Gallery also has interdisciplinary studios including an Art Lab with 3D printer. Come tour our 12,000 sq ft. art facilities at the opening reception.